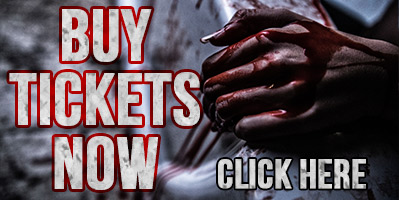 Ticket Prices - All Dates
Combo Ticket $35
Our best value! Allows access to both of our attractions: Quarantine Unleashed, and Cursed. Buy your tickets online and skip the ticket line! Tickets purchased online are valid any day we are open. You can also purchase tickets on-site directly from our box office during open hours.
Main Attraction Ticket $25
Visit Quarantine Unleashed only.
VIP - Paranoia Pass $50
This combo pass, available all nights, allows patrons to bypass the regular queue line and gain admission directly into Paranoia Haunted House, significantly reducing your wait time. VIP PASSES ARE AVAILABLE ONLINE FOR THE FIRST TIME EVER! Buy it online to skip the ticket line AND both attraction lines!
Screaming Group Discount
Special rates for groups of 20 victims or more. Get a COMBO TICKET for a sinister price of $25 each! The group rate will automatically apply when you add at least 20 combo tickets to your cart online, or you can get it at the box office by mentioning it.